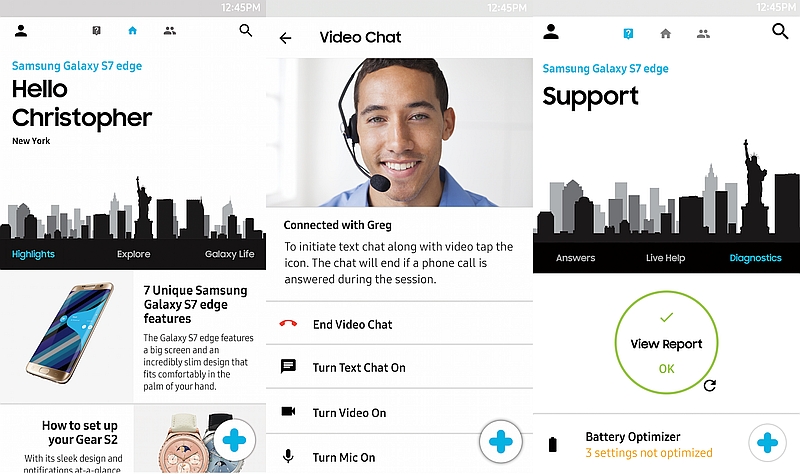 Samsung has recently become even more customer-centric. With so many different types of handsets coming out of a production lines the kind of customer service required here is also supposed to be one of a kind. Samsung understands this perfectly and has decided to go all the way to improve this department. With the kind of devices that are been launched most of them of the higher categories that can support Complex features like virtual reality, needs to have support for these devices increases. Hence the company has decided to be able to provide remote assistance to Samsung uses so that some problems can be fixed without the customer having to visit the store and depositing the mobile for a week or two.
Going to a service centre and depositing the phone for a repair really inconveniences people to a great extent. The phone becomes a source of enjoyment and connectivity to the world and a lot of data is often stored here especially for those who are involved in business or job. Hence having remote support features available allows users to be able to get the server status without having to visit the store and to leave the mobile at another person's hands for a long time.
This feature, also known as remote assist is currently only available at the S7 and the S7 Edge devices. This is because only these two devices have received the Samsung Plus 3.0 update. The remote assistance has been introduced with this update and for people who wish to avail this feature they can simply click on the remote accessoption and then allow the Samsung representative to take remote connection of your device. The Samsung refrigerator will not touch your device unless you give him permission to do so. This permission can be given either through a voice call over by video chat. This feature is a great importance to those users who are not well aware of how to handle cases where hardware or software problems in smartphones ensue. It also prevents the situations way users unknowingly contact scam call centres for their chargeable tech support services. Although these tech support services are not always shake and support is really provided, it also increases the risk of having substantial damage done to your device by the means of inexperienced technicians handling the software services.