Microsoft has been constantly expanding their array of services that they have been providing the users with. The company has been coming out with a large number of innovations and improvements which has helped the world at large grow forward and the company has been leading from the front. For over the past 40 years, Microsoft has been a name which has been one of the most dominating forces in the world of technology. The company has recently been observed to have been heavily cross-promoting their products on other platforms such as Android and iOS. In their most recent update, Outlook for iOS and Android has now received the ability to schedule calls.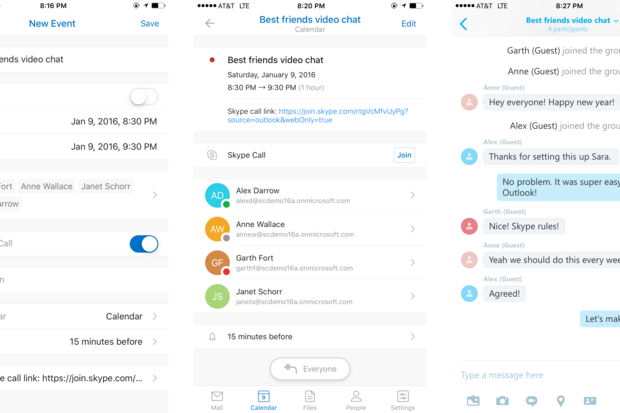 This update for Microsoft Outlook for iOS and Android has rolled out today itself, and allows the users to be presented with a 'Skype call link' on their outlook app, and clicking on that will have them join the conversation. For those who have the Skype messenger on their phone, they will be logged in via that, and while those who don't, will be redirected to Skype for web! The best part? Your friends don't even need a Skype ID for this.
This Outlook update has been quite similar to what Google has with Hangouts. Interestingly, this update came just one day after Microsoft announced that they are all set to introduce group video calling for Skype users on Android, iOS and Windows 10 Mobile. The Skype group video calling was earlier a paid service made available only for the users of Skype for business, but on the wake of rising competition and WhatsApp being tipped to come out with video calling, Skype is now taking drastic measures to ensure they have no threat from rising competition.
This also comes in as Microsoft's vision of cross-promoting apps. No matter which platform the users might be using, the Microsoft branding is clearly visible across the spectrum of technology.