Apple has been a company which is known around the world for their expertise in the world of design and product innovation. The company has been constantly coming out with these introductions and changes, and has managed to gain a major edge over the world of technology because of their innovations in design. The next major design overhaul the company looks at is towards the iPad Air 3 device, which is expected to come out in the month of March, along with the iPhone 5SE.
As per various leaks in recent times, the iPad Air 3 is expected to feature a 9.7 inch screen, and will have a 3.5mm jack as seen in the case. What was the most interesting observation was a port for a smart-connector, which has been a part of the iPad Pro in the past.
Another image has leaked today, hinting at a smart connector being a part of the iPad Air 3. The image comes courtesy Engadget, and showcases the iPad Air 3's dimensions.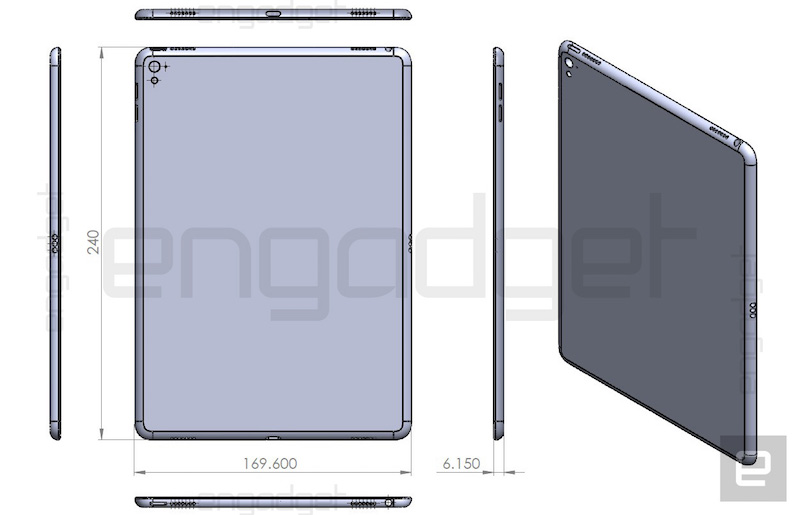 What is worth noticing here is that the device is quite similar to the iPad Air 2 in terms of dimensions. However there are significant design improvements over the same as the new iPad Air 3 is expected to feature –
A four-speaker setup similar to that of the iPad Pro, this device will be able to play a more dynamic audio than its predecessors. The four speaker setup is a minor innovation which gives a major boost to the audio of the device.
Flash is likely to feature in the iPad Air 3 as the tablet's case that was leaked earlier showcases a larger hole for the camera, which is likely to accommodate the flash feature.
The 3.5mm jack also remains in the device amid chaos among the apple users that the company is soon doing away with it. The leaked case does indeed feature the iPad Air 3 with the 3.5mm jack.
To know more about the leaked case news, read HERE.
Comments
comments